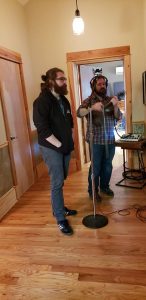 Grassland has resumed production of their next album scheduled for release late this year.  Recording at Keane Studios in Athens, Georgia, Grassland is once again working with producer/engineer John Keane  (REM, Widespread Panic, Indigo Girls).  Keane has produced several Grassland songs, including Dreamers and Heartache and Drifting.
Among the songs expected to be on the album include Grassland originals "Running From Myself" (Jason Badia),  "Lipstick and Tattoos" (Leanne Daniels), "Running Like I'm Standing Still"  and "Love is Love" (Jody Daniels).
This will be the band's fourth album since its beginnings in 2013.
Soon to follow this album will be the band's 10-song concept album in 2023.