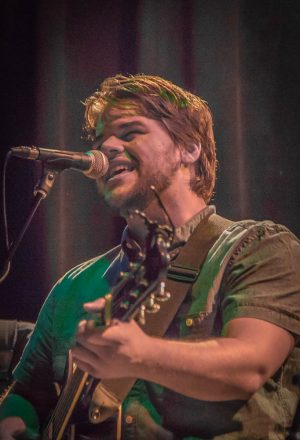 Grassland String Band vocalist-instrumentalist Michael Lesousky has decided to leave the band.   While we are sad to see him depart, we are excited for his future.
As one of the founding members of GSB in early 2013, Michael played a key role as a leader and songwriter in the band, contributing to the production and success of three GSB album releases.  We are deeply grateful for his contributions over these past four years and our friendship and mutual desire for each other's success remains strong.
As most of you know, Michael and his wife, Kaitlyn, moved to Franklin, TN in the late summer of 2016.   Shortly after moving, Michael landed a wonderful job as Ticketing and Hospitality Coordinator at The Franklin Theater.  He is excited about his work in the music industry and the experiences he is gaining. Despite his desire to continue performing with GSB, especially as the band continues to gain momentum, the distance and new job limited Michael's ability to remain in his role.  He will of course continue to develop his bright future as a solo artist.
Meanwhile, GSB is alive and well.  Several singer/songwriters have emerged as strong candidates and new shows will be announced soon.  Thanks to all of you, we can look forward to many more years of continued success.
Michael's final performances with GSB are March 24th at Hendershot's (Athens) and April 15th at EOP Red Clay Music Foundry (Duluth).  We hope you will join us at those shows and celebrate new beginnings for all!
*****Special Statement by Michael Lesousky*****
It is with a bittersweet emotion that I announce my departure from Grassland String Band. Over the past four years the band has meant so much to me, and it will remain a touchstone in my career as a musician.
Before I met Jody Daniels, I was lost in the wilderness of youth and heartbreak. When we formed GSB, it was with the spirit of a new beginning. We both were searching for a something fresh and clear. I've spent many nights in the car with Adam, Kevin, and Jody laughing uncontrollably and having conversations that have helped shaped my perspective as a musician – and, more so, as a man. Over numerous rehearsals and shows, I've shared life's changes and growth. GSB was there when I proposed to my beautiful wife at Hendershot's and GSB was in my wedding party when I got married. Despite all the love and memories, I leave for something new – what exactly it is, I don't know yet.
As GSB continues on without me, I see this moment as a turning point in a new direction. I'm so excited to see how the band continues to grow and amaze people with live performances. This isn't the end of me and it isn't the end of GSB, it's something different. It just happens and it always will. Even though nothing in this life is certain, you can be certain that whatever it's gonna be, it'll be beautiful.