GSB is pleased to announce that it will perform November 8 at Wildwood Revival in the Athens-area featuring a stellar lineup of national and regional Americana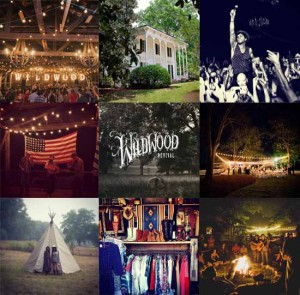 acts.  The Fall edition of the festival features Langhorne Slim, T. Hardy Morris, Patrick Sweany, Joe Fletcher, Margo Price, The Deslondes, Joshua Black Wilkins and Grassland . Just 15 minutes from downtown Athens, this Americana-style festival will be held at an idyllic 30 acre farm venue called Cloverleaf Farm. Guests have the opportunity to see Langhorne Slim, Wildwood Revival's headliner, amongst a few hundred fans rather than the often thousands who attend his shows and festival appearances throughout the country. Langhorne Slim has recently appeared as a musical guest on Conan O' Brien (twice) as well as David Letterman. He's also shared the stage this year with The Avett Brothers, Old Crow Medicine Show, Dawes, Shakey Graves, Jason Isbell and many more.
Wildwood Revival is a truly unique, one-day festival celebrating music and southern culture where guests can get off the grid. This event combines the camaraderie of a supper club, the soul of a juke joint, and the wild spirit of a honky tonk. It's a cultural revival; what's old is new again. The show will take place under an open-air, fully renovated tin roof barn; a night of amazing music in an intimate setting.
Guests will enjoy a hearty, farm-to-table style supper with local, seasonal food to be perfectly paired with the first sip of Georgia brew provided by Terrapin Beer Co. and gourmet popsicles by King of Pops. Wildwood also features a bohemian flea and boutique artist market selling vintage goods. With pasture and wooded camping by teepee, tent or vintage Airstream, guests from both Athens and beyond are encouraged to stay the evening under a canopy of stars and bring guitars etc. for post-show, late-night pickin' around a bonfire.
Wildwood Revival is a festival for people who don't like festivals. Attendees can come without fearing greasy food and expensive bottled water, long lines, unkempt port-o-potties, and being sandwiched between a sea of wasted youngsters. It's a boutique festival offering delicious food, free filtered water, and clean outdoor restroom facilities. It's an intimate environment to see a favorite band, all set against a serene, country backdrop.
Wildwood Revival will grow into a three day event. It's focus will always be to provide guests with a unique festival experience by
•Promoting an environmentally friendly, plastic-free event – no single use bottles or plates
•Free drinking water – no $5 bottled waters typically associated with festivals
•Reasonably priced food and beverages, similar to their local restaurant and bar
•Limited number of tickets available in order to provide an ideal, intimate environment
Tickets may be purchased at www.wildwoodrevival.com for $48. Due to the high volume of ticket pre-sales, only 275 tickets remain. For more information on their headliner, Langhorne Slim, please visit www.facebook.com/langhorneslim and www.langhorneslim.com