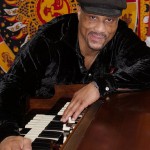 Hammond B3/ Whurlitzer virtuoso Ike Stubblefield is a music industry legend with almost 50 years in the business.
When GSB needed someone to take take two of its songs,  "Boom Boom" and "Diamond" to new heights, Ike was the overwhelming choice. His sound is the perfect fit for "Boom Boom", a preachy motivational tune that encourages folks to reach for their potential and to "kick down the door".  In "Diamond", Ike creates a soulful undertone that perfectly compliments Michael Lesousky's bluesy vocals.  Simply put, Ike nailed it in the studio and we are head-over-heels excited about it.  "Boom Boom" and "Diamond" are part of the Echo Mountain Sessions EP that is scheduled for release  in the late Fall.
Ike cut his teeth backing Motown legends like the Four Tops, The Temptations, Marvin Gaye, Martha Reeves, Stevie Wonder and Rare Earth. He lent his soulful R&B style to Al Green, Ike & Tina Turner, Curtis Mayfield, B.B. King, The Pointer Sisters and George Benson, and helped create the classic B3 sound that others would imitate for generations to come. In 2010, he collaborated with Grammy-winning Atlanta soul man Cee Lo Green, recording organ and keyboards on 9 tracks.
These days, the B3 icon and mini-Moog master stays busy jamming with Papa Mali in New Orleans, rocking with Big Hat in Nashville and producing out of his Atlanta studio. Drawing from his recent time with the Derek Trucks Band and years on the road as a musician-for-hire, Stubblefield is finding his true passion collaborating with old friends and bringing the loose ends of an illustrious career together on his new project, The Ike Stubblefield Trio.   GSB is very honored for Ike's contribution to the Echo Mountain Sessions EP.
Read more here: Ike Stubblefield