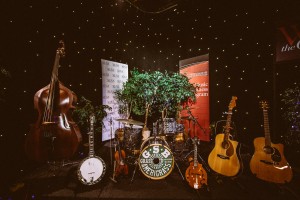 (
Grassland began their journey in late 2012.  Beginning as a bluegrass duo, then soon after as a trio with a drummer, the pieces began to fall into place and Grassland String Band was born. A few years later, the band had grown into a multi-generational six-piece band that boasts members with degrees in classical organ, double bass and jazz guitar and a jazz-folk-pop and bluegrass influenced, improvisational live performance style -a hybrid the group called Amerigrass.
You would never have put together a band like this using a formula.
In the summer of 2014, GSB's debut album Before the Feast was released and quickly brought attention to the band.  The album was a first glimpse into the group's palpable chemistry, strong songwriting and virtuosic musicianship. In 2015, a live performance from the EOP Red Clay Music Foundry (Duluth, Ga) was successfully released as their 2nd album.  Clearly the band was in control of its unique sound.  Shows during that time included a performance at the Ted, the Atlanta Braves former stadium.
In the fall of 2016, the band released the Echo Mountain Sessions EP, recorded during an epic January snowstorm in Asheville.  The album, named after the famed studio in which the recording took place, elevated the band to yet another level in its journey.  The EP received much praise and recognition from noteworthy media outlets including NPR Atlanta, Stomp & Stammer, Flagpole Magazine, and the Alternate Root (Calif.)
The band released a few singles including "Dreamers" in 2018.  Dreamers debuted at number 4 on the Alternate Root's list of top ten songs and was used by NPR Atlanta in a piece they aired about the struggles faced by DACA youth.  In 2019, Grassland began recording its fourth album produced and engineered by Athens native John Keane (R.E.M., Indigo Girls, Widespread Panic).  The Covid pandemic resulted in a postponement of the album, titled "Grassland:  Still Not A String Band" but it was completed and released in late- August of 2022 to great reviews.  The Alternate Root said " they favor plugging in and throwing down over keeping it acoustic. Grassland String Band all top players, with solos delivered clean and concise, and fills placed perfectly like snapping in that last piece of the puzzle."
During the covid shutdown, the band also wrote its next album "The Alibi" which they hope to begin recording in the Spring of 2023.  And the band has enough new material to plan a future album.
At live shows, every element of the band is turned up to eleven. This is not a show you'll see fans chatting through. The crowd yells "woo"s of encouragement. They slap their thighs. They sing along. They dance. The band's chemistry positively fills the room as they grin their way through the set, extending some of their tracks into improvised jams. Sometimes it looks a little like bluegrass.  Sure, it has a banjo, a fiddle and a mandolin on occasion.  But there is the electric guitar, keys, pedal steel and a drum kit.  It's jazzy, bluesy, soulful, country and rock.  It's something much more, something modern and amorphous. It's music that crosses generations, crosses genres, and will cross your soul. It just happens.
Grassland is:  Jody Daniels, Banjo, Guitar, Mandolin;  Doug Peters, Electric Guitar; Todd Ferguson, Drums; Adam Poulin, Fiddle;  Given Graber, Double and Electric Bass;  Leanne Daniels, Acoustic Guitar, Vocals;  Jason Badia, Acoustic Guitar, Banjolele.