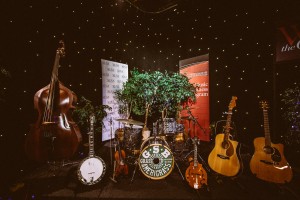 Bluegrass was only the beginning.
Grassland String Band began their journey at a bluegrass jam in late 2012, when singer and multi-instrumentalist Michael Lesousky wowed vocalist and banjo player Jody Daniels with his talent. The two of them decided to make music together, and GSB was born. A few years later, they'd grown into a multi-generational six-piece band (spanning in age from 26 to 61) that boasted members with master's degrees in classical organ and guitar and a jazz-folk-pop and bluegrass influenced, improvisational live performance style -a hybrid the group called Amerigrass.
You would never have put together a band like this using a formula.
In the summer of 2014, GSB's debut album Before the Feast was released and quickly brought attention to the band.  With boisterous vocal interplay and fine string-pickin', the album was a glimpse into the group's palpable chemistry, strong songwriting and virtuosic musicianship. In 2015, a live performance was released as their 2nd album.  Recorded from the EOP Red Clay Music Foundry (Duluth, Ga), the band introduced new material, like "Boom Boom," in which Daniels takes center stage. Clearly having one hell of a good time, he leads the band through a soulful number about the need "to kick down the door, children!" over Kevin Fleming's bluesy, electric guitar.  Clearly the band was in control of its unique sound and headed to success.  Shows during that time included a performance at the Ted, the Atlanta Braves former stadium.
In the fall of 2016, the band released the Echo Mountain Sessions EP, recorded during an epic January snowstorm in Asheville.  The album, named after the famed studio in which the recording took place, elevated the band to yet another level in its journey.  The EP received much praise and recognition from noteworthy media outlets including NPR Atlanta, Stomp & Stammer, Flagpole Magazine, and the Alternate Root (Calif.).
Lesousky, eager to start a solo career, moved to Nashville in late 2016.  But the band, determined to keep making great music, quickly found its feet.
At live shows, all these elements are turned up to eleven. This is not a show you'll see fans chatting through. The crowd yells "woo"s of encouragement. They slap their thighs. They sing along. They dance. The band's chemistry positively fills the room as they grin their way through the set, extending some of their tracks into improvised jams. Does it look a little like bluegrass? Sure, it has a banjo, a fiddle and a mandolin on occasion.  But there is the electric guitar and a drum kit.  It's something much more, something modern and amorphous. It's music that crosses generations, crosses genres, and will cross your soul. It just happens.