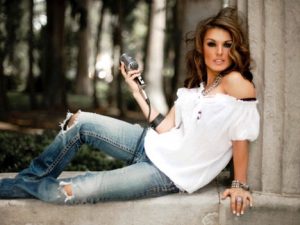 Tonya Scott, an electrifying entertainer and brilliant vocalist from Atlanta, Georgia, has joined Grassland.  While fans can expect GSB to "stay at home" with their unique Americana sound, the room just got much, much bigger.  Bringing energy, passion, humor, and fun-filled playfulness, Tonya adds a rich array of musical repertoire, songwriting and show business savvy to a band already known for its multi-genre influences.
Tonya was signed to a publishing deal out of Atlanta with The Lowry Group Publishing (Sony/BMG) at the age of 24.  While there, she was developed as an artist and was sent to Nashville to write and work as a studio singer and session writer.  She has trained with top vocal coaches in Atlanta, Nashville and Los Angeles learning everything from pop, rock, Broadway, jazz and commercial jingle singing.  She has lent her voice for animated films and commercial voice over.  She works at numerous L.A. studios, including EggChair studios & Columbia Records, as a session singer and writer.  She created and appeared in a popular comedic torch song show where she brought the audience laughs and sizzle.  She has appeared on MTV's "My Own", played with Esteban on his HSN advertisements and for the last three years has brought her music, personality and comedy to cruise ships as a guest entertainer, dueling pianist, lounge piano singer, corporate entertainer and guitarist.  She performs regularly in Las Vegas at the New York New York and Harrah's Casino in their dueling piano show.
With GSB, Tonya will handle lead vocals, play keyboard and occasionally the guitar.  While fans can obviously expect to hear a different sound, familiar songs will still be heard intermingled with fresh original material and the occasional cover.  But fans should also be ready for a Grassland experience like no other:  Tonya is an accomplished show-biz entertainer and knows how to bring a smile, touch a heart, get a laugh and get people dancing, interacting and up on their feet!   And it all begins on Saturday, September 29th at Hendershot's in Athens!